Introduction
This page will help you to look at a wide variety of maps of Vauxhall and Kennington from 1681 to the present day. The maps are listed in date order, oldest first.
Most of the images below are thumbnails. Please click them to bring up larger images.
Other Sources
Here are some other sources of old maps:-
The Maps
1681 Map of Vauxhall Manor
Note that this image is oriented with West being at the top of the map.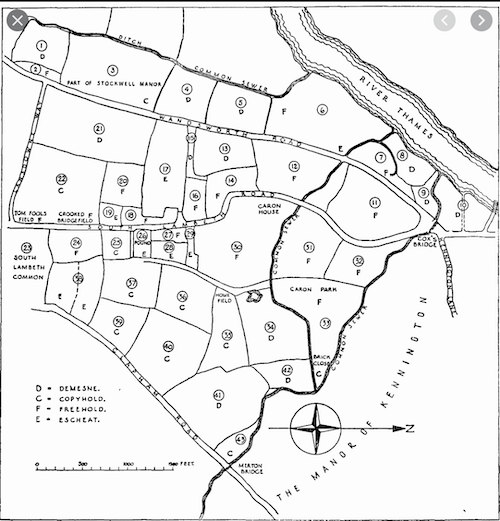 John Rocque's 1746 Map of London
This is the first detailed map (1:2437) of the area, published by Motco. Hard copies are available from Stanfords. I am not aware of an online version other than in Layers of London.
Bowen/Kitchen Large English Atlas 1755
This is the Middlesex page of this atlas. The Surrey side is therefore not so detailed . Note that 'Newington' looks very much like 'Nennington' but that was because of the typography of the time.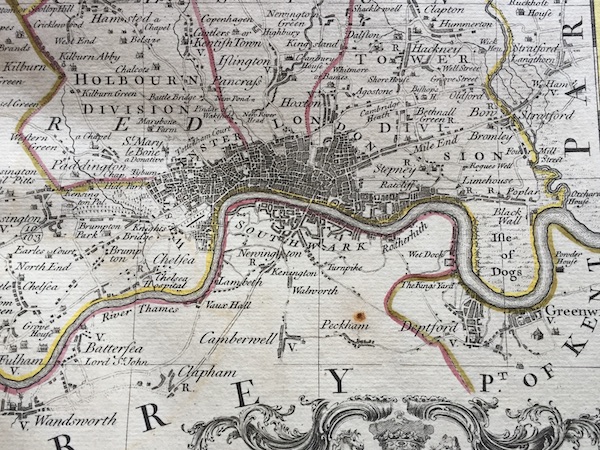 Surrey side of the Thames in 1766
This map was originally published in "Gentleman's Magazine"
Vauxhall and South Lambeth in 1790
This is an extract from Sir William Davenant's 1790 map.
Below is a more detailed map of Vauxhall and South Lambeth in 1790 inc. the Pleasure Gardens. Note that the area was still very rural.
Richard Horwood, London 1792-99
Hard copies are available from Stanfords. I am not aware of an online version other than in Layers of London.
John Fairburn's 1802 Map of London
I am not aware of a current supplier of this map.
Strangers Guide to London 1807
This is a small part of this map which can be bought from the London Metropolitan Archives.
Part of a c.1811 Map of Surrey
Vauxhall Riverside
Here is a plan of Vauxhall's riverside in the early 1800s. Note the Waterman's Houses and the Waterman's Seat (opposite the entrance to Vauxhall Walk) where the owners of the Thames Wherries waited for passengers.
Cary's 1818 Map of London
Here is the Vauxhall area of this map, originally published at 1:9748.
The whole map is here.
Greenwood's 1827 and 1830 Maps of London
These maps can be seen at Old Maps Online and in Layers of London.
Kennington to Peckham c.1830
This is a reduced size extract from this map which covers a large part of South Central London.
Click on this image to bring up the whole map. Most browsers will then let you focus in on particular areas of the map. There may be + and - buttons in the bottom right hand corner, for instance.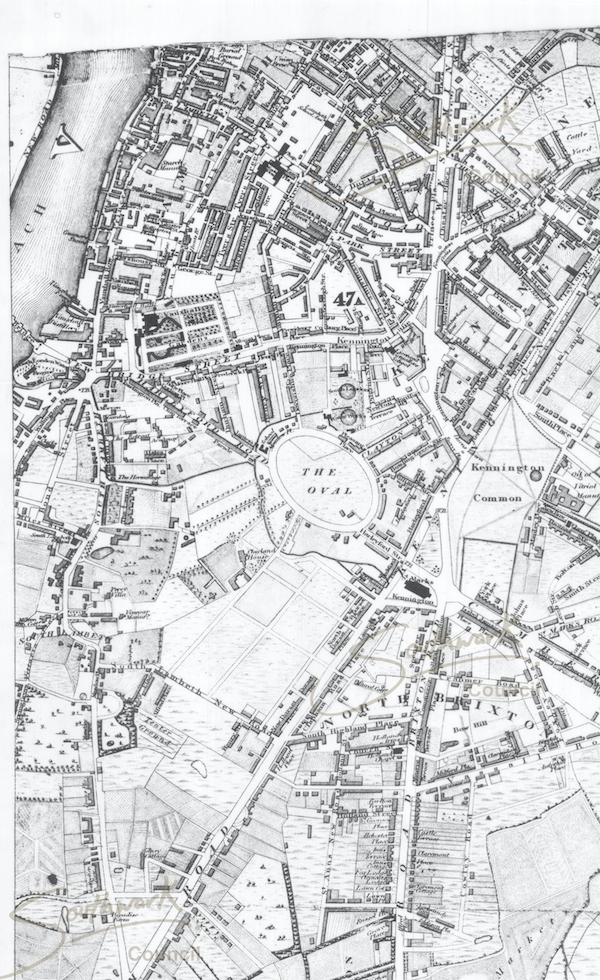 Williamson's 1831 Map of the Parish of Lambeth
Copies of this map can be obtained from Lambeth Archives. Here are thumbnails of four areas of this map.
1832 Anonymous 'New Map of London'
Mogg's 1837 Strangers Guide to London
Cruchley's 1846 New Plan of London
This map was 'coloured to show the various routes of the omnibuses ... with all the railways and stations.
The full map can be seen here.
Here is an extract showing the area around Vauxhall Bridge.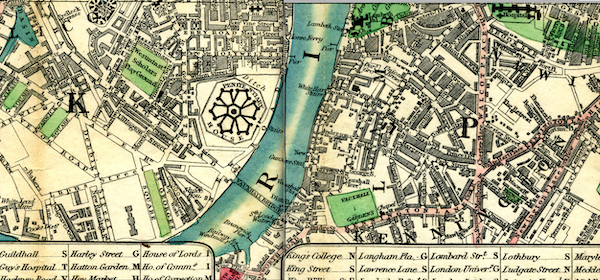 Dr John Snow's 1856 Map of Water Companies in South London
Click on this thumbnail to bring up this map which played a vital part in Dr Snow's Grand Experiment that proved that cholera is a water-borne disease.
1857-9 Reynold's Map of Modern London
This is R Jarman's re-drawing of Reynold's map originally published in 1857. Click on either thumbnail to be taken to the London-wide map.
1862 Stanford's Map of London
Click here to see this 1:10,560 map.
Bacon's 1888 Atlas of London
Click on one of the five links below to look at these very detailed (1:7,040) maps. Copies of pages of this atlas can be bought from the London Topographical Society.
The Charles Booth 1889 Descriptive Map of London Poverty
Click here to access this searchable London-wide street map and archive. Copies can be bought at the London Museum in the Barbican. It also features in Layers of London.
Early Ordnance Survey Maps 1871 - 1914
Alan Godfrey publishes these detailed and inexpensive maps, available from many booksellers as well as over the web.
London sheet 89 (Kennington & Walworth) is available for 3 dates: 1871, 1894 and 1914.
Other Ordnance Survey Maps
The National Library of Scotland have some lovely high resolution scans of 1:1056 OS maps of London between 1893 and 1896.
Trams
And here is nice map of the tram lines around Vauxhall Cross.
Follow this link to see some lovely photos of old Vauxhall.