Vauxhall Cross
A Photographic History
Vauxhall Cross is at the heart of the development of the south bank of the Thames in central London between Lambeth Bridge and the Battersea Power Station. The whole "VNEB" area is being transformed following the planning decisions, early in the twenty-first century, to encourage the construction of:-
(a) a large number of high rise buildings around Vauxhall Cross, and along the Albert Embankment, and
(b) a new American Embassy and large numbers of residential buildings along Nine Elms Lane.
Let's start with Lambeth Riverside around 1750 ...
... and Nine Elms riverside - just past Vauxhall looking towards Battersea - again around 1750-60.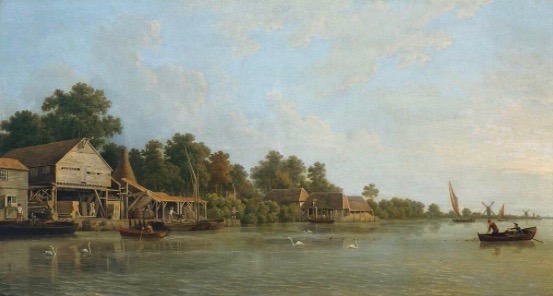 ... followed by Vauxhall Village in 1825.
Here is the first Vauxhall Bridge, completed in 1816.
In 1836, the aeronaut Charles Green ascended from the area with two others in the Royal Vauxhall, a famous balloon that used coal gas as the lifting force. The Royal Vauxhall flew some 480 miles to the Duchy of Nassau in Germany, setting a distance record not broken until the 20th century. It inspired this artist's 1856 vision of a 1950 Vauxhall International Airport:
Here is a c.1903 photo of a group of dignitaries on a newly erected arch of the new Vauxhall Bridge.
This is the completed bridge in 1908:
And 1908 was the year that a developer imagined Dream City - London's answer to Coney Island's Dreamland. Ironically, perhaps, the site was instead used for the Battersea Power Station which is now being turned into an entertainment complex.
This is an interesting map of the tram lines and roads around Vauxhall Cross;
Here is Vauxhall Cross in 1912:
And here is the same view in 2013: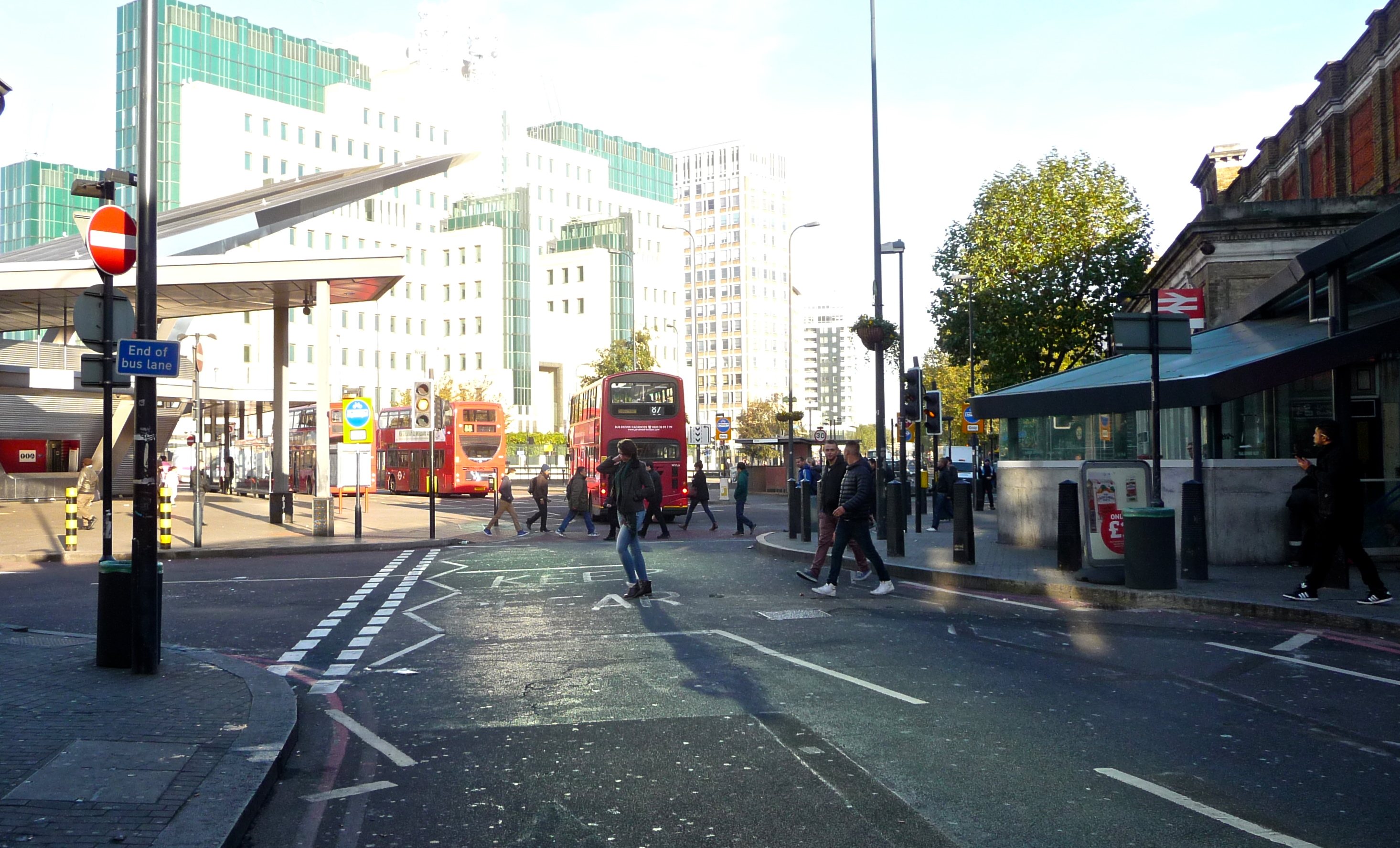 This next photo is from an Evening Standard article November 1937: "Biggest Traffic Roundabout to be Ready in April". It is taken looking along the South Lambeth Road from near the Royal Vauxhall Tavern:
A [Not very serious?] proposal for a City Airport downstream of Lambeth Bridge. (Image provided by Andrew Orange via his Tradescant Blog):
Here is Vauxhall Bridge either around 1957 or in 1968. Experts' views please!
This 1962 scheme for improving traffic flow at Vauxhall Cross didn't get very far ...
... and neither did this 1963 proposal for a 'Crystal Span' to replace Vauxhall Bridge. According to Wikipedia:
The Glass Age Development Committee was established in 1937 by Pilkington to promote the use of glass as a building material in the UK. It commissioned designs for many large-scale schemes, none of which were ever built. Notable schemes included a proposal in 1955 to demolish the entire area of Soho and rebuild it entirely in glass; a 1957 proposal for the replacement of St Giles Circus in London with a 150-foot (46 m) tall glass heliport;[3] and the 1963 "Crystal Span" proposal for the replacement of London's Vauxhall Bridge with a seven-story glass building straddling the River Thames, which was to have contained a shopping mall, luxury hotel, residential development and a museum to house the modern art collection now housed at Tate Modern.

The Committee is best known for its ambitious 1971 proposal for a glass and concrete offshore city housing 21,000 people, to be anchored off the coast near Great Yarmouth and accessed from the mainland by hovercraft. The development was to have been called Sea City. The structure would have been 4,700 feet (1,400 m) long and 3,300 feet (1,000 m) wide, and would have rested on concrete islands supported by piers. It was intended that the development would have been economically self-sufficient thanks to boatbuilding workshops, fish farming, and the export of fresh water from an onboard desalination plant, while a lagoon in the centre of the development would support a tourist industry based on skin diving and water skiing.
Here, below, is a 1972 photo of the Nine Elms Cold Store which was demolished in the 1990s to make way for St George Wharf. Vauxhall Bridge is just out of the photo, to the left.
A 1979 plan to build a Green Giant next to Vauxhall Bridge, on the site now occupied by the MI6 building, caused considerable controversy, despite the fact that the site had been awaiting development for 21 years. Although it would have in fact have been grey, not green, the design was nevertheless described as 'audacious', featuring 'a slim slab, 30 stories high, in full view of the Palace of Westminster'. There would have been 34,000 square metres of residential space, and 5,600 square metres of exhibition space. Government Minister Michael Heseltine eventually ruled against allowing the development to proceed. An artist's impression is on the right, and a plan is below.
The site was eventually used to build the Terry Farrell designed SIS/MI6 building which was completed in 1994:-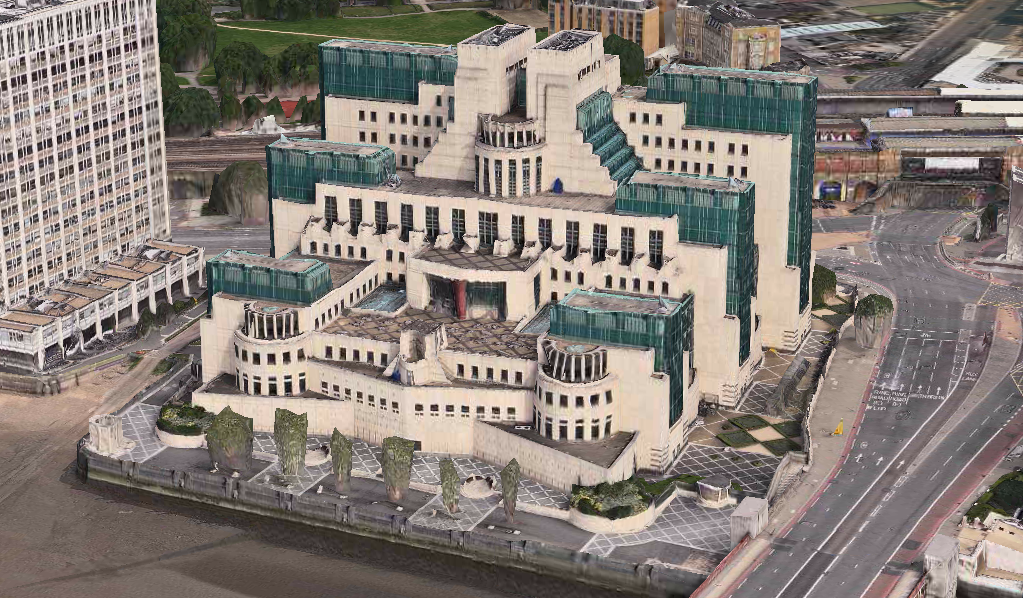 Here is an atmospheric 1997 photo of Battersea Power Station and nearby gasholder (the latter now demolished) framed by Vauxhall Bridge:

This is an artist's impression of the Barrett's Beer Bottling Stores, which became the Bondway Business Centre.
The Thames foreshore looking southwest in 2000. The wooden stumps are the remains of a bronze age bridge or jetty:
Vauxhall Cross changed a lot in the period from 1999 to 2003 when the bus station was built, the gyratory created, and St George Wharf constructed. Further detail is here; and here is a nice time lapse photo of the bus station in July 2017.
Here is another nice conjunction of old and new. Half the entrants in the London to Brighton Car Rally - open only to vehicles built in or before 1904 - drove for the first time through Vauxhall Cross in November 2018.